Marais Et Mon Coeur.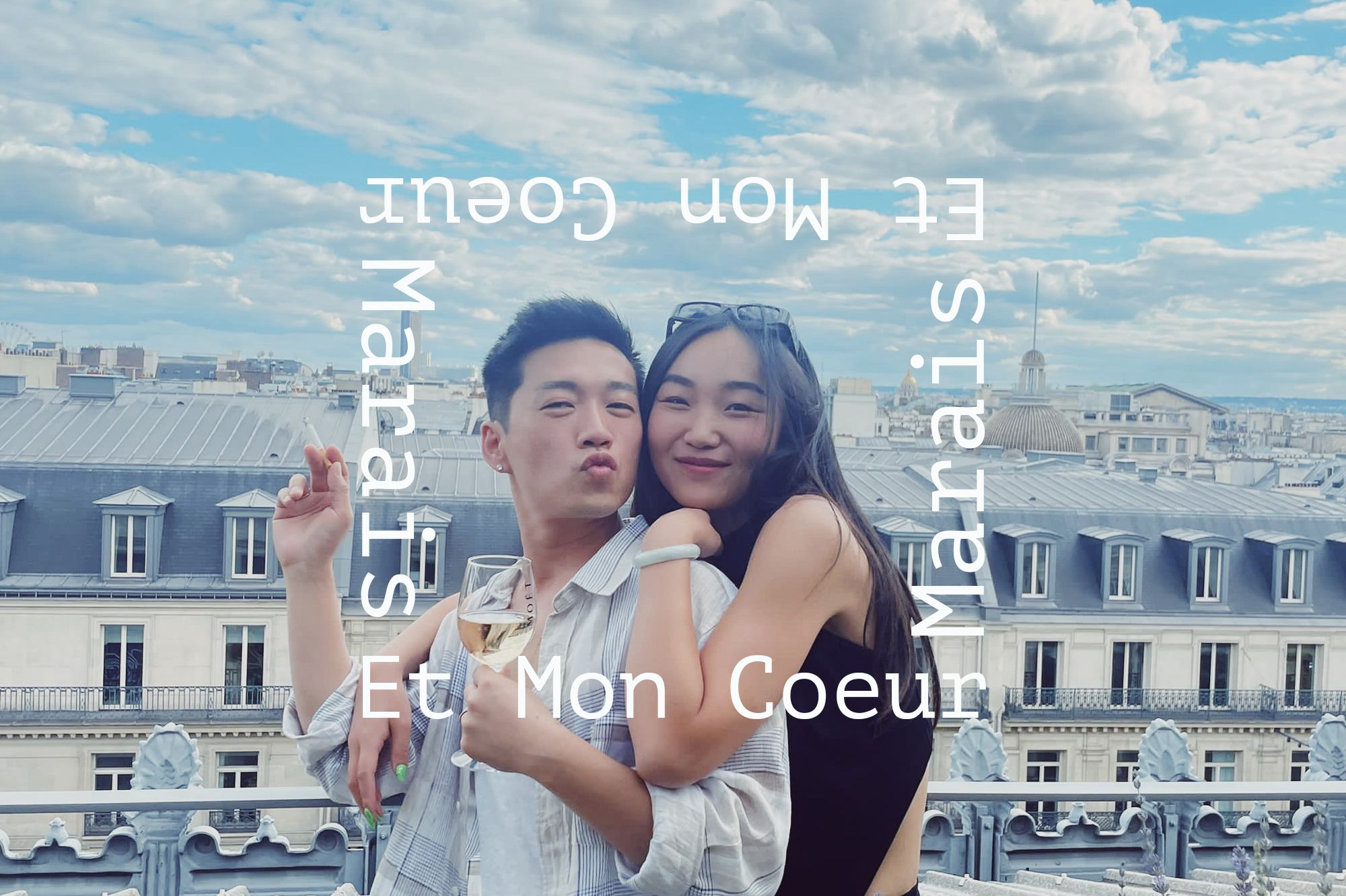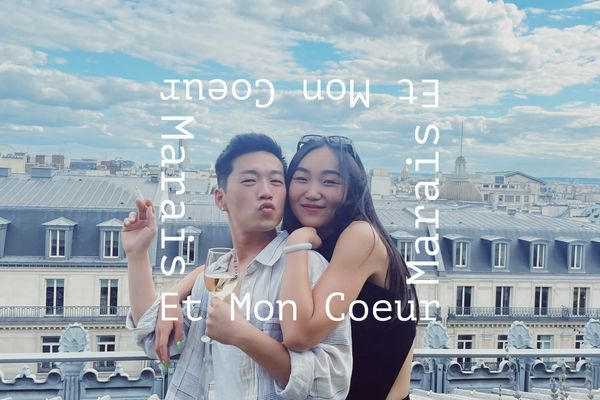 Even though we just moved to a new house and I am as tired as a dog, I had to go to Paris to celebrate the Master's Degree graduation and the birthday of my dearest sister. (After all, I have been ditching her for more than 2 years, so I can't skip this time.)
為了慶祝我最可愛的Summer妹妹研究所畢業跟生日,即使剛搬完新家,累得跟狗一樣,我也一定要去趟巴黎,送上我最真摯得祝福。(畢竟我已經放鳥她2年多,這次不可以不去🤪)
By the way, the last time I went to Paris, it was with my husband 5 years ago. But for the entire trip, it was my husband who led the way, so I just followed his butt. This time I set off alone, which made me a little nervous, I was constantly afraid of missing the train or missing a stop. What if my luggage was stolen, or I lost my phone? It felt like my brain was constantly putting on some soap operas that made me feel worried. Fortunately, all my worries were for nothing. I saw my lovely sister, I ate a lot of delicious food, and I also bought a lot of souvenirs. I also met  two former college classmates from university in Taiwan! Here, I really want to say something shameless, Paris feels like... I'm supposed to live there. It felt like home: friends, good food, family.
話說上次去巴黎也是5年前跟老公一起,但畢竟是老公帶路,全程我就跟著他屁股走就好;這次自己一個人出發,不禁讓我有些緊張,深怕錯過火車,或搭過站,或行李被偷,或手機掉了之類的,感覺自己的腦袋不斷的在上演些令我恐慌害怕的肥皂劇,所幸是一切都很順利美滿,見到了我親愛的妹妹,吃了好多不可思議的美食,買了好多的紀念品,還見到了兩位以前的大學同學!我很想說句很不要臉的話,巴黎給我感覺像是..我好像就該住在那裡的樣子(笑)。
I think the reason why Paris makes me feel this way has to do with my lovely sister  there. On a short 5 days and 4 nights trip, my sister helped me arrange a schedule with a lot of fun. First of all, celebrating her birthday with her boyfriend Paul in a traditional French bistro; the next day, having spicy hot pot with her colleagues;  then going to her university, the famous fashion school Parsons, to take some photos. On the way, I also drank a famous boba milk tea, Machi, which is run by famous Taiwanese pop singer Jay Chou. After that, we went to the top floor of Printemps to drink the most expensive champagne I've ever had in my life and look out over Paris. You think that's it? No, the next day, I got up early to queue up for 40 minutes to eat super fancy, 3-euro croissant. Also, I finally met Summer's lovely cat Bibu (I call him Bilibalabu), and she also took me to a new fancy department store, Samaritaine, which only opened last year. Samaritaine opened my eyes to a lot of interesting and trendy fashion brands. It was just a few days of walking around the city with her, but I couldn't help but feel a sense of rejuvenation, and an inexplicable sense of pride, as if the fashionable breeze of Paris blows through my body and blows away the kitchen oil smell of my housewife body. Total upgrade! This little trip to abandon my husband and the cat is really great! It is also super expensive!
我想巴黎之所以讓我感覺這麼的親切,應該有很大部分的原因,是因為我親愛的妹妹在那裡;短短的5天4夜小旅行,妹妹幫我安排了好多有趣的行程,先是跟她男友一起慶祝生日,吃了道地的法式bistro,隔天又跟她的同事一起吃麻辣火鍋,之後又去了妹妹念研究所的學校Parsons拍網美照,順便喝了周杰倫開的Machi Machi, 之後又去Printemps頂樓喝香檳看風景,隔天還起個大早去排隊吃一顆3歐的高級可頌,去妹妹家見了妹妹的愛貓BiBu (Bilibalabu),還有去那個去年新開的高檔百貨公司Samaritaine開眼界,認識了好多有趣的品牌;短短幾天跟著她走來走去,讓我不禁有種回春的錯覺,跟莫名的驕傲感,就好像是被巴黎的時尚微風吹拂,瞬間也彿去了我身為家庭主夫身上的油煙味!這種抛夫棄貓的單身小旅行,實在是太棒了!也實在是太貴了😅!
If you want to get out of Paris without spending any money on shopping, without hurting your wallet, I think it's a mission impossible, especially after going through the streets and alleys of the Marais district and seeing some fine craftsmanship and materials. Exquisite clothes, how can you not be tempted? I think shopping in Paris is euphoria. The customer service is wonderful! And every time you buy something, it will be accompanied by a high-end paper bag that's beautiful, well-designed and with heavy paper. When I found myself carrying bags in both of my hands, walking down the street and listening to high-intensity music coming from my headphones, I felt that the whole street was like my runway. This kind of vanity is a little bit crazy, but the good part is that this craziness is only in my imagination.
在巴黎要想不花半毛錢雪拼,不傷荷包的全身而退,我覺得根本是天方夜譚,尤其是徹底地逛遍瑪黑區的大街小巷之後,看到些做工精細,材質精美的衣服,怎麼可能不心動? 而且我覺得在巴黎購物,是種很美好的身心靈體驗,巴黎人的服務態度都很好呀!而且每買個東西,都會附上厚度300磅以上的高級紙袋,當我發現自己左右手拎著一袋又一袋的戰利品,走在街上聽著耳機裡傳來那種節奏強烈的音樂,感覺整條街都像是我的伸展台那樣,有種虛榮無法度的囂張,但好險的是這樣子的喧囂張狂,也只有在我自己的想像世界裡。
The most rewarding thing on this early-summer trip was a visit to the Slow Gallerie, which gave me the courage to dare to dream again. As an artist and illustrator, I still need to develop how I think about a series of works. Also, I found a surprisingly fun stationery store, SUPEREDITIONS. They sell notebooks, but they also sell stories that you can illustrate yourself. I bought two story book, The secret life of bananas and The angry fairy. I am curious how I will draw them later! 🥰
這次的暑期小旅行,讓我收穫最多的,應該就是去了一趟Slow Gallerie,讓我想再勇敢的做一次夢🥺,也讓體悟到身為插畫家/藝術家在風格上,與主題系列感的部分,我還有需要做些大方向的調整;另外也發現了一間非常有趣的文具店SUPEREDITIONS,裡頭販售好多有趣的故事,讓人來畫畫的想法,也真得是非常的有趣,我自己就買了兩個故事 The secret life of bananas 與 The angry fairy, 很好奇我之後會怎麼畫他們 🥰。
The night before I left, after saying goodbye to my little Summer sister in front of the opera house, I walked back to my B&B past the store called Merci. It was only 25 minutes walking. The summer wind cooled me down. The first quarter moon hung high in the night sky, and the night in Paris is so joyful for me, a traveler.
最後離開前的那晚,跟妹妹在歌劇院前晚安道別之後,沿著Merci那條路走回bnb,短短的25分路程,夏夜的晚風輕輕飄盪,沁涼而舒心,夜空中高高掛著上弦月,巴黎的夜晚,對於我這個旅人而言,竟是如此的歡暢。
Bonne nuit, Mon Coeur.
謝謝你親愛的妹妹,哥愛你。